Press Release
EVGA Releases Motherboard BIOS Updates to Support the Latest 9th Gen Intel Core Processors
- April 12, 2019 —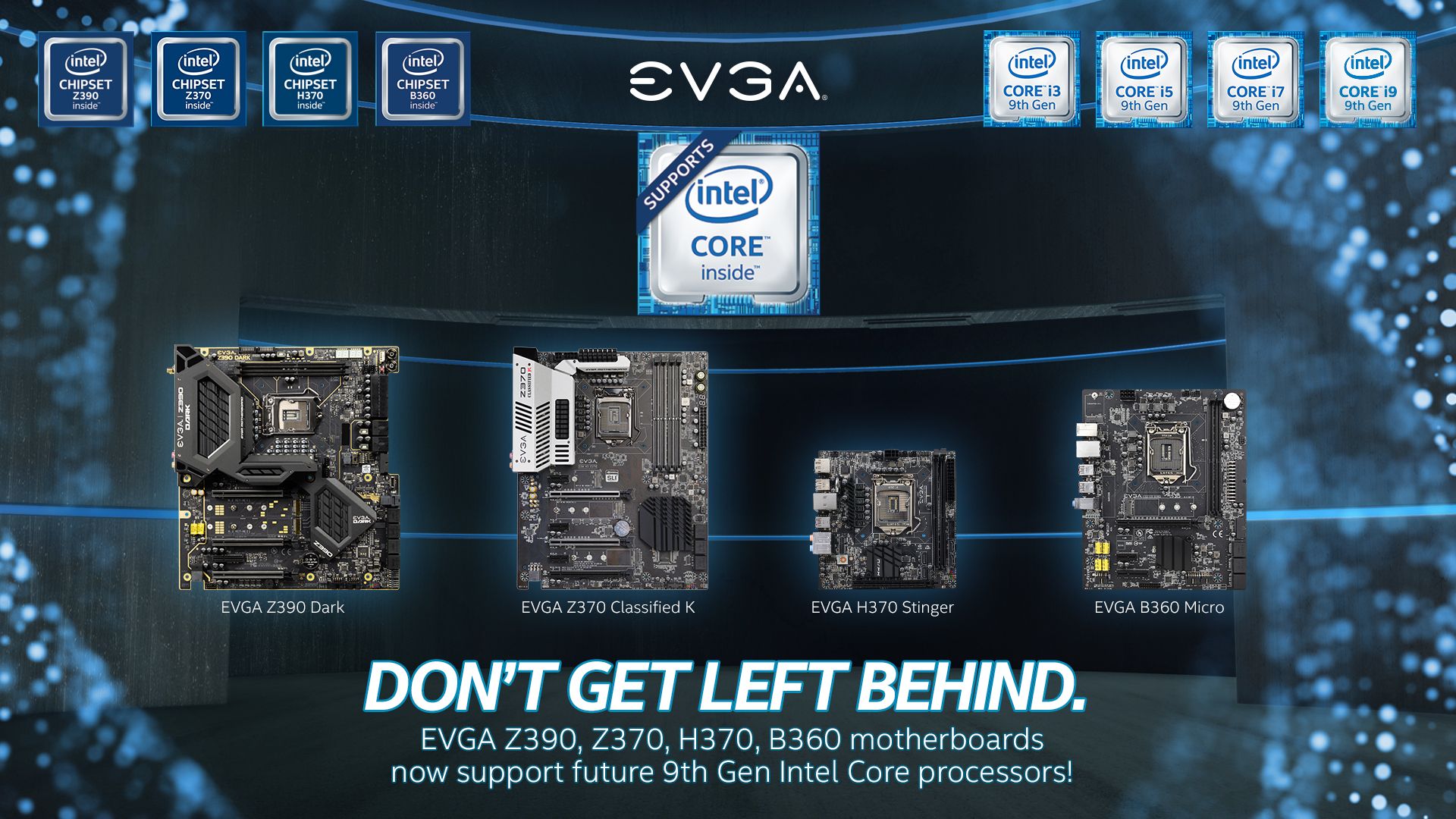 Today, EVGA officially releases BIOS updates for its Intel 300 Series motherboards to support both current and future 9th Gen Intel Core processors.

These BIOS updates are necessary to support the newest stepping on 9th Gen Intel Core processors, as well as provide future support for unreleased processors.

Download the latest BIOS for your EVGA Intel 300 series motherboard by clicking the download link below. This will take you to our download page where you can find the release notes and installation instructions.


EVGA Z390 Motherboards

Motherboard
BIOS Version
Link
Z390 DARK (131-CS-E399-KR)
1.06
Download
Z390 FTW (123-CS-E397-KR)
1.07
Download

EVGA Z370 Motherboards

Motherboard
BIOS Version
Link
Z370 Classified K(134-CS-E379-KR)
1.14
Download
Z370 FTW (134-CS-E377-KR)
1.13
Download
Z370 Micro ATX (121-CS-E375-KR)
1.12
Download

EVGA H370 Motherboards

Motherboard
BIOS Version
Link
H370 Stinger (111-CS-E371-KR)
1.06
Download

EVGA B360 Motherboards

Motherboard
BIOS Version
Link
B360 Micro Gaming (112-CS-E365-KR)
1.06
Download




If you have any questions or comments, please contact our Customer Service.



About EVGA
EVGA is the #1 NVIDIA authorised partner in channel sales throughout North America and UK. Based on the philosophy of intelligent innovation, market knowledge, and the real time operation, EVGA continues to identify the need in the market place and providing the solution to that need. By offering product differentiation, a 90 day Step-Up programme, and other customer focused programmes, EVGA is a clear leader in all categories: etail, retail, distribution, and system integration. With headquarters in Brea, CA, EVGA's global coverage includes EVGA GmbH in Munich, EVGA LATAM in Miami, and EVGA Hong Kong. For further information online about EVGA, visit: http://eu.evga.com.




For further information, contact:
Joe Darwin
EVGA USA
+1 714-528-4500 x118
jdarwin@evga.com

EVGA Europe
+49 89 189 049-0
- Download This Press Release In Adobe Acrobat PDF Format